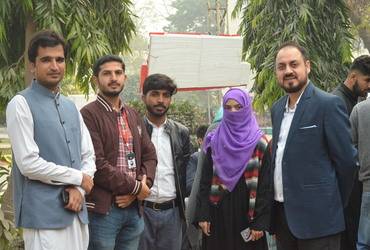 December-2018
Dilawar Hussain Foundation participates in Disease-free UET event
LAHORE, DEC. 2018: Dilawar Hussain Foundation (DHF) recently participated in a 2-day health event, Disease-free UET, held at the University of Engineering and Technology's (UET) Lahore campus, which was organized by the UET Blood Donor Society.

CCL Pharmaceuticals also joined DHF in setting up its stand at the event. Present among others at the event were Novo Nordisk, Sehatmand Zindagi (NGO), Kashif Iqbal Thalassemia Care Center and United Christian Hospital.

CCL Pharmaceuticals conducted diabetes screening of more than 400 students in 2 days, whereas Novo Nordisk offered free nutritional advice to visitors. Sehatmand Zindagi conducted tuberculosis screening of over 150 students at the event. Professor Dr. Fazal Ahmad Khalid, Vice Chancellor of UET visited Dilawar Husain Foundation's stand and thanked the team for supporting UET by participating in Disease-free UET.

Meanwhile, a diabetes awareness lecture was also delivered by Mohammad Jafri, Director Program of Dilawar Hussain Foundation at the Architecture and Planning Department auditorium. He talked about the causes, prevention and statistics of diabetic patients in the whole world and Pakistan, and highlighted the risks for pre-diabetes and type 2 diabetes. "There are many preventive steps, which if taken on time may reduce the chances of developing the disease," he said.