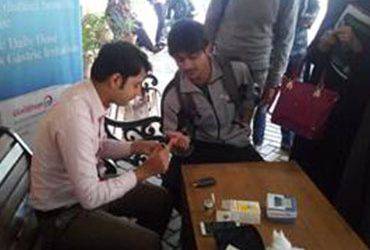 January-2019
Diabetes awareness seminar held at National College of Business Administration & Economics
Dilawar Hussain Foundation
this week organized a diabetes awareness seminar in collaboration with National College of Business Administration & Economics (NCBA&E) and Martin Dow Markar Limited. The seminar was attended by over 80 students, teachers and faculty members.
Mohammad Jafri, Director Programs of Dilawar Hussain Foundation talked about the causes, prevention and statistics of diabetic patients in the world and in Pakistan. He also talked about the risks for pre-diabetes and type 2 diabetes and what preventive steps should be taken to reduce chances of developing the disease.
"Dilawar Hussain Foundation is playing its role to create a deeper awareness among the marginalized communities. We aim to enable underprivileged communities to build a more sustainable future by increasing their access to health and education," remarked Mohammad Jafri.
Ansa Amir, Nutritionist at Dilawar Hussain Foundation, talked about the value of leading a healthy life. She highlighted the importance of eating a balanced diet for good health and well-being to delay the disease onset. Later she also gave nutritional advice to seminar participants. A team of Martin Dow Markar Limited conducted diabetes screening of students and staff at the end of the program.